The home boys' basketball game with Oelrichs scheduled for Thursday, February 2nd had been cancelled.

There will be no Little Warrior Boys Basketball practice today.

The Middle School boys basketball game has been rescheduled for Friday, February 3 starting at 1 (mt). It will be held in the Warrior Center.

The Junior High Boys' Basketball game that was to be held at home tonight with Valentine has been postponed to a date yet to be determined.

Due to the bitter cold morning temperatures and snow packed roadways, there will be a two hour late start on Monday, January 30th.

The Girls Basketball game that was schedule for today, Jan. 28, against Jones County has been postponed due to the weather conditions. The game will be rescheduled at a later date.

Great job to our hand games team!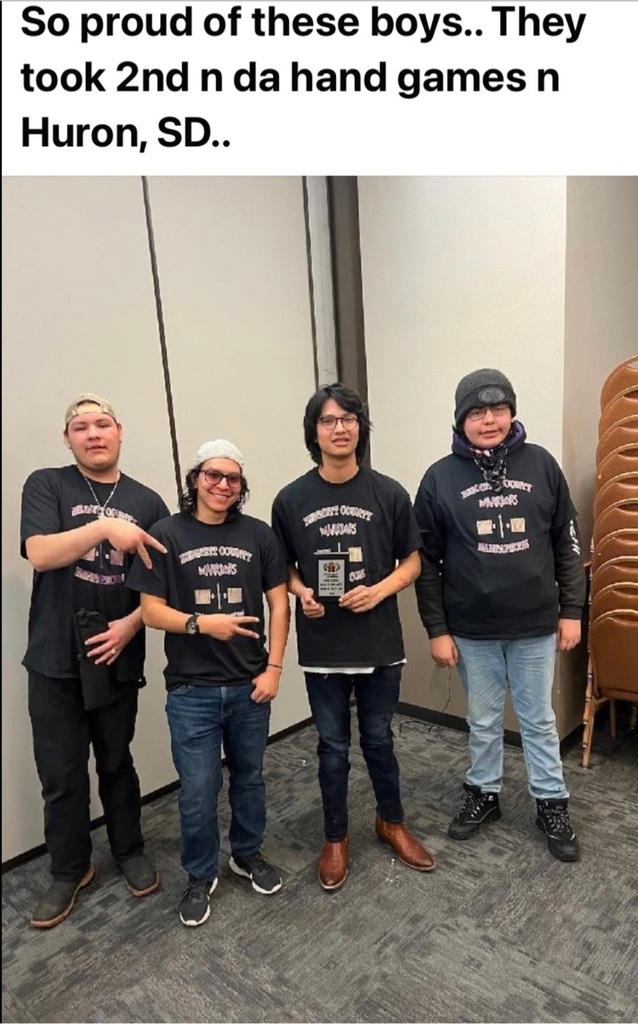 The Wagner Wrestling Meet that was scheduled for tomorrow, Jan 28, has been canceled due to predicted weather forecast.

MSBB tournament on February 4.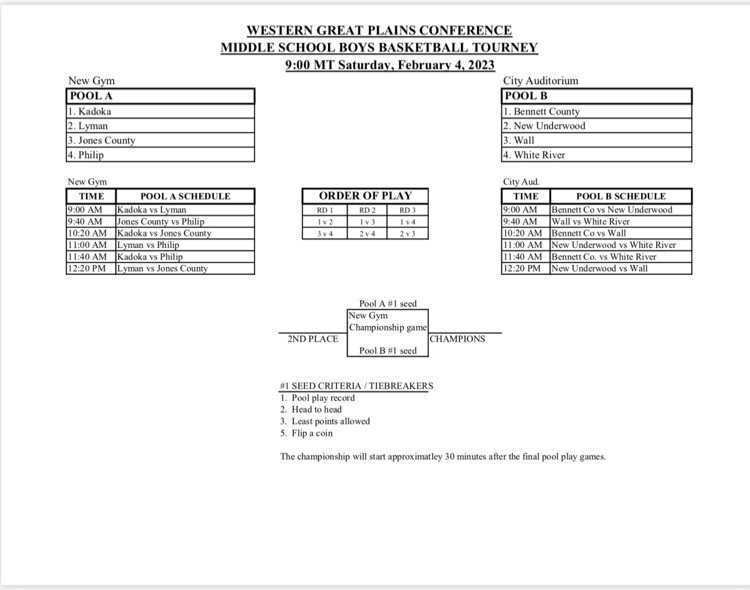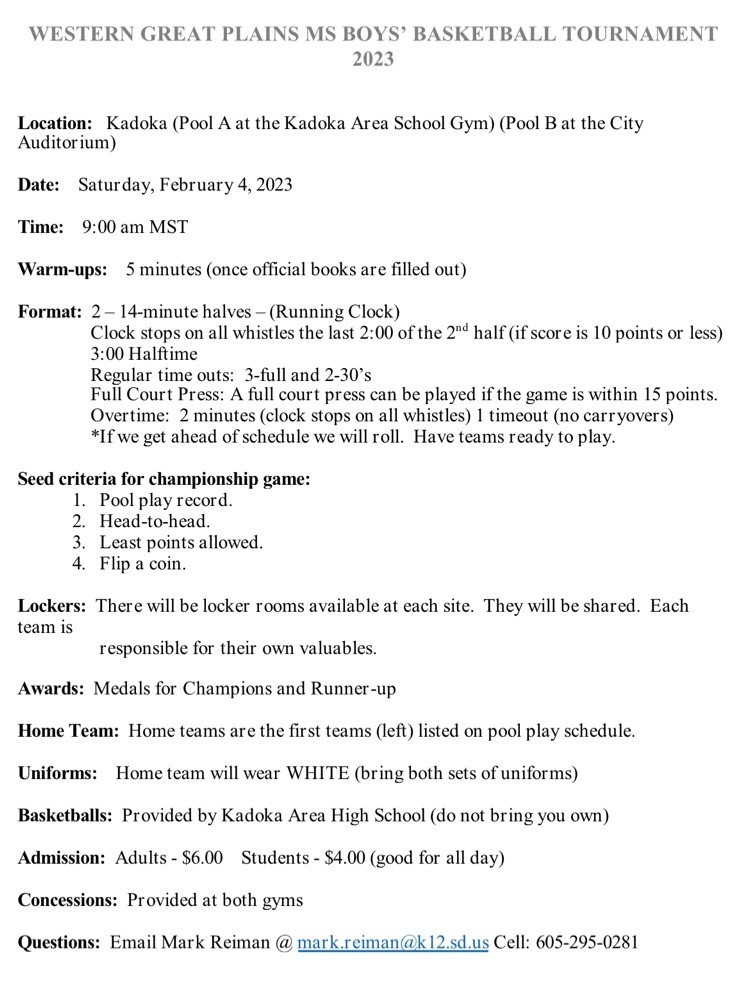 Bingo for Books, that was scheduled for tonight at 6:30, has been postponed due to the weather. We will look for a date later in the spring. Stay safe and warm!

JHBBB Philip Invitational Brackets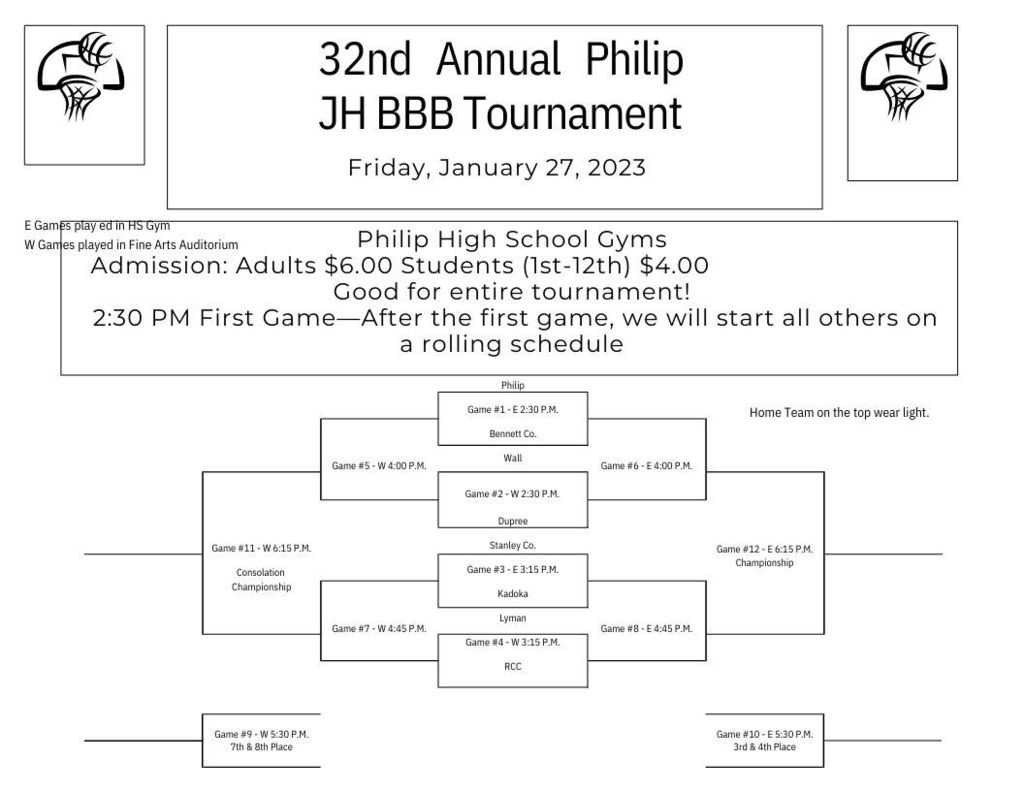 There will be a Two Hour Late Start, Today, Thursday, January 26th. Drive Safe!

Girls Basketball JV will only play 2 quarters at tonights game against White River. Game time starts at 5:30.

The Bennett County Booster Club will be holding a meeting on Wednesday, January 25th at 6:00 p.m. in the Warrior Center Commons Area. The Booster Club has developed a "New Warrior Mascot Committee" that will be working to come up with options for a new Bennett County School District "Warrior" mascot. The booster club is inviting parents, guardians, and community members to attend this meeting to share ideas. These "Warrior" mascot options will then be shared with the school district.

This is just a friendly reminder that school will be in session tomorrow, Friday, January 20th, with a 2:30 p.m. dismissal. This is the first of four snow make-up days. Each day in school for every one of our students is critical in their education pathway to success. We thank you for sharing your children with us and we look forward to seeing their smiling faces tomorrow. And I am pretty sure all the teachers have something fun in store for all the students in appreciation for the student's dedication to being in school and learning.

The boy's basketball games at Lyman beginning at 4:15 p.m. Mountain Time tonight will run back-to-back.

The girl's basketball game at Todd County tonight is postponed and will be rescheduled to a later date. The boy's basketball game at Lyman will still be held and begin at 4:15 p.m. Mountain Time.

The Bennett County School District will have a two hour late start on Thursday, January 19th. Plan ahead for extra time as the roads are snow packed and icy. Drive Carefully!

The Bennett County School District will be releasing at 1:30 p.m. today so that everyone can get home safely. There will be no activities this evening.

The girls basketball game against Crazy Horse for tonight will only be a VARSITY game starting at 5:30 p.m.